I've said it before and I'll say it again; there's levels to this dumb assery ish! These two gentlemen fall into the category of stupid criminals who know nothing about technology.
So beware of the cloud, would-be criminals and future dumb asses; for it can (and will), lead to your demise.
According to ABC 13 in Houston, Texas; authorities say two men stole an iPad and about five grand in cash from a car in Houston and then headed to Burger King to celebrate, by taking a ton of selfies and they even filmed themselves with their stolen gadgets.
One of the men in the video (which you can see below) said, "Hello America, this, my good people, is what we get, from a good night's hustle." The man can then be seen holding up a wad of cash next to his remedial partner in crime.
Harris County Precinct One Constable Alan Rosen told The Post, "What they didn't know, and they weren't technologically astute to know, is that, of course, [the video] goes to iCloud when you do that [shoot video],"  Rosen went on to say, "The net result is that our victim is looking at his iCloud picture account and he sees they're holding money in their mouths and sort of giving this ad-hoc interview of 'this is how you get your hustle on.' They really turned themselves into a movie."
Sidenote: What you two dumb asses did wasn't "hustling." What you two did, was make a mockery out of people who legitimately know how to hustle and they actually hustle every day. They don't look for an easy come up. 
Local Houston media picked up on the video (again; which you can see below) and images after the theft. Then on Wednesday night, a police officer spotted one of the men. Dillan Thompson, 22, and Dorian Walker, 20, were subsequently arrested on charges of felony theft.
According to Rosen, they caught the perps just in time because Thompson told police that he was actually planning to leave the state this week.
Rosen said, "They were what I consider to be dumb criminals; just not very bright," and I call them your two-for-one #DumbAssOfTheDay special!
ABOVE VIDEO COURTESY OF: GURGLING KITTEN'S YOUTUBE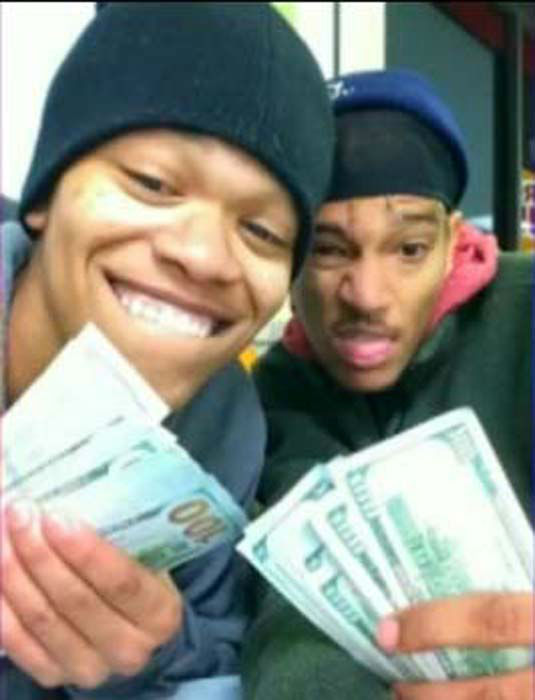 ​ABOVE IMAGE COURTESY OF: ABC 13
Tune in to the #NRQmorningshow Monday thru Friday to hear who gets crowned, #DumbAssOfTheDay!